MURAKOSHI'S FLY FISHING ADVENTURES & FLIES UNLIMITED
Freshwater Flies
All flies are tied with quality Gamakatsu and Daiichi hooks. You can place order by email at jaysflies@me.com or call (831) 809-4221. All payments are made using PayPal.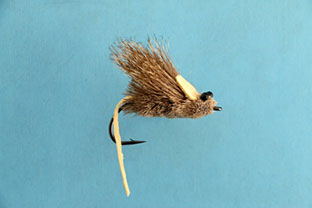 Deer Hair Mouse
$4.25 each
This fly we surely entice that lurking bass looking for a meal. The deer hair mouse also has a good track record for rainbows in Alaska.
Hook Size 1/0, 2/0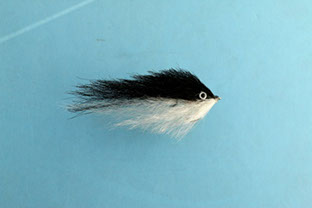 Wig Hair Bait Fish
$3.95 each
Whether fishing fresh water or salt water. An excellent pattern for stripers and larger trout. Tied on Gamakatsu hooks.
Hook Size 1/0, 2/0, 3/0
White/Chartreuse
White/Gray
White/Tan
White/Blue
White/Black
White/Olive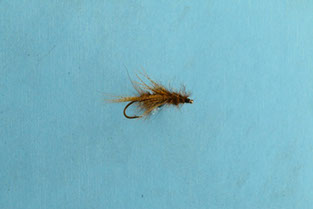 Carp Flies
$3.25 each
Carp will eat just about anything in the water. I like flies that imitate aquatic insects, like worms, nymphs, scuds.
Hook Size 4, 6, 8, 10
Hare's Ear Bird's Nest
Wooly Bugger - Black, Brown, Olive Black/Chartreuse w/rubber legs
Loco Moco ( Glenn Ueda design )
Clouser - Black, Olive
Crazy Charlies - Tan, Olive
Black Bitters - Olive, Tan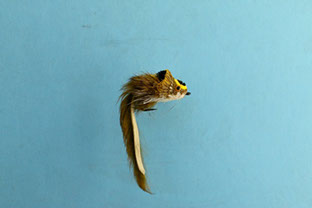 Dahlberg Diver
$4.00 each
A great top water fly that is designed for fishing in heavy cover. With a 25lb mono weed guard, this fly will not snag if worked properly through the hangups. Comes with a rabbit strip tail. Tied on a Gamakatsu B10S stinger hook.
Hook Size 1/0, 2/0
Olive/Black/Yellow
Yellow/Black
White/Black
Green/Yellow
Natural Deer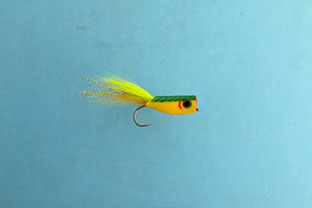 No Brainer Crease Fly
$3.95 each
The crease fly is for fish who feed on top or just below the surface. They are tied on a heavy wire hump shank hook so the body won't twist. The most popular color for fresh water is olive/white.
Hook Size 1, 1/0, 2/0
Yellow/Green
Black/White
Olive/White
Chartreuse
Green Scales
Black Silver Scales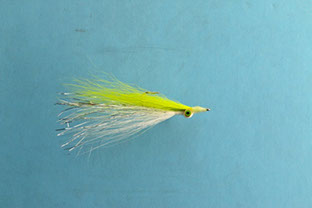 Clouser
$3.95 each
This is probably the number one fly that is used for a wide variety of species in the world. We have caught dorado, roosterfish, bone fish, jack crevalle, lady fish, queen fish, barramundi, stripers, large and small mouth bass. The number one favorite color is White/Chartreuse.
Hook Size 4, 2, 1, 1/0, 2/0, 3/0
White/Chartreuse
White/Black
White/Blue
White/Grey
White/Tan
White/Yellow
Punch Jig
$4.50 each
This fly is used to punch through heavy weeds. When jigged up and down, the rubber legs attract fish. I have found purple and pink to be a great color. The fly is tied on a Gamakatsu 60 degree jig hook.
Hook Size 1/0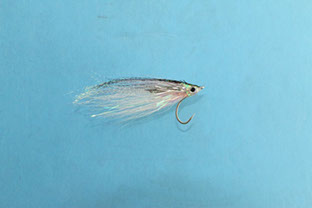 Sea Habit Buck Tail
$5.95 each
The sea habit white knight is my "go to" fly where ever I fish. Designed by Trey Combs who lives in the Pacific Northwest and is a well known steel head fly fisherman. The fly was designed for salt water fishing but is used quite extensively for salmon and steelhead.
Hook Size 1/0, 2/0, 3/0
Blue Anchovy
Green Anchovy
Rainbow Trout
Sardina
White Knight
Deer Hair Frog
$6.95 each
This fly is tied on a dual point upright Gamakatsu hook. A great fly for working lily pads and heavy top water weeds.
Hook Size 2, 4, 6
Deer Hair Crank Bait
$6.95 each
Swims and reacts just like a standard crank bait jig.
Hook Size 1/0, 2/0
Wiggy Air Head
$3.95 each
This fly has a cone on the inside of the body which gives it the air head look. When retrieved, it has a swimming motion from side to side. Tied on Gamakatsu hooks.
Hook Size 1/0, 2/0, 3/0
White/Chartreuse
White/Gray
White/Tan
White/Black
White/Olive