MURAKOSHI'S FLY FISHING ADVENTURES & FLIES UNLIMITED
Saltwater Flies
All flies are tied with quality Gamakatsu and Daiichi hooks. You can place order by email at jaysflies@me.com or call (831) 809-4221. All payments are made using PayPal.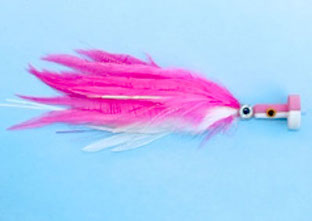 Bill Fish - Tube Fly
$16.00 each
The bill fish fly was developed by big game fly fishermen Cam Sigler. This is a big game tube fly with a popper head which you can trail any hook size you like. The fly is in the 6 - 7 inch range.
Pink/White
Pink/Pink
Blue/Yellow
Lady Fish
$15.00
This fly is tied with wig hair and an inner body of white buck tail
gives the fly a girthy profile. The yellow cheek plates are tied in
between the white layers of wig hair. Approximately 12" in length
Tied on a 6/0 or 4/0 Partridge Universal Predator hook. Specify hook size
Hook Size: 6/0 or 4/0
Bone Fish
$3.00 each
Anyone who fishes for bone fish will always carry a supply of these flies. Whether you are fishing the Bahama's, Belize or Christmas Island, this is one fly that you will want to have in your fly box. They are tied on Gamakatsu and Daiichi salt water hooks.
Hook Size 8, 6, 4, 2
Bone Fish Bitters
Christmas Island Special
Crazy Charlies Gotcha
Kwan Bead Chain
Turneffe Crab
Clouser
$3.95 each
This is probably the number one fly that is used for a wide variety of species in the world. We have caught dorado, roosterfish, bone fish, jack crevalle, lady fish, queen fish, barramundi, stripers, large and small mouth bass. The number one favorite color is White/Chartreuse.
Hook Size 1, 1/0, 2/0, 3/0
White/Chartreuse
White/Black
White/Blue
White/Grey
White/Tan
White/Yellow
Crease Fly
$3.95 each
The crease fly is for fish who feed on top or just below the surface. They are tied on a heavy wire hump shank hook so the body won't twist. One of our favorite species to cast crease flies to is our roosterfish. The most popular color is the Yellow/Green.
Hook Size 1, 1/0, 2/0, 3/0
Yellow/Green
Black/White
Olive/White
Chartreuse Green Scales
Black Silver Scales
Sea Habit Buck Tail
$5.95 each
The sea habit white knight is my "go to" fly where ever I fish.
Designed to imitate a number of bait fish.
Hook Size 1/0, 2/0, 3/0
Blue Anchovy
Green Anchovy
Rainbow Trout
Sardina
White Knight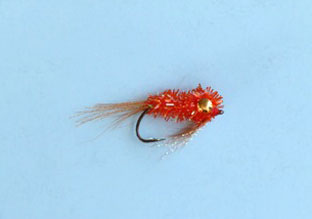 Surf Zone
$3.00 each
These patterns are effective for catching barred surf perch
corbina, smelt and a number of salt water species who roam
in the surf zone.
Hook Size 8, 6, 4, 2
Rusty Squirrel
Orange Ruffy
Blood Worm
10/40
White/Chartreuse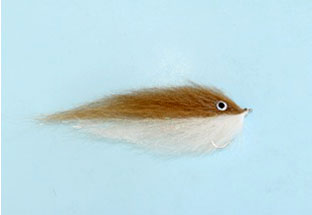 Wig Hair Bait Fish
$3.95 each
A bait fish pattern designed with Kanekalon wig hair
that will not tangle or foul. Tied on Daiichi and Gamakatsu
hooks. A pattern for all species, salt water and fresh water.
Hook Size 1/0, 2/0, 3/0
White/Chartreuse
White/Gray
White/Tan
White/Blue
White/Black
White/Olive
Purple/Black
Mackerel
Wiggy Air Head
$3.95 each
This fly has a hollow head that allows the material
to have a swimming motion when retrieved. Made from
Kanekalon wig hair and tied on Gamakatsu hooks.
Hook Size 1/0, 2/0, 3/0
White/Chartreuse
White/Gray
White/Tan
White/Blue
White/Black
White/Olive
Purple/Black